Manaaki Whenua Press
NEW ZEALAND NATURAL HISTORY AND SCIENCE
New Zealand Plant Protection Vol 60, 2007
New Zealand Plant Protection Society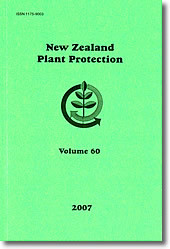 Manaaki Whenua Press are agents for publications of the New Zealand Plant Protection Society (NZPPS).
Published proceedings of the annual NZPPS conferences, held since 1948, include papers on all aspects of biology, ecology and control of weeds, pests and diseases in agriculture, horticulture and forestry.
All the Proceedings from 1948 onwards are now available online.
Some copies of proceedings prior to 1998 are available.

Availability
Author: New Zealand Plant Protection Society
Publisher: New Zealand Plant Protection Society
Publication date: 2007
Pages: 329
Format: Paperback