Manaaki Whenua Press
NEW ZEALAND NATURAL HISTORY AND SCIENCE
Managing Urban Weeds and Pests
Edited by D M Suckling & P S Stevens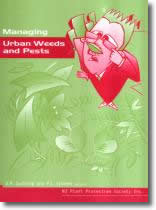 This volume contains articles by the New Zealand Plant Protection Society, covering a range of important issues associated with urban pest management, and is intended to encourage informed debate. It is useful for students, resource managers, in regional councils and elsewhere, and the interested public.
As a country, New Zealand has a young and dynamic environment. It was the last significant land mass on the planet to be colonised by humans. Waves of human immigration have introduced enormous numbers of exotic species, at an accelerating rate. Some of the introduced species have emerged as major pests of national importance, and there are special issues associated with pest management in urban situations.
These problems are confounded by the increasing urbanisation of the New Zealand populations, changing needs for pest management in productive and natural ecosystems due to the increasing influence of local and international urban consumers, and an increased rate of pest incursions due to increased trade and tourism.
Availability
Product information
Author: Edited by D M Suckling & P S Stevens
ISBN: 978-0-47-806821-4
Publisher: New Zealand Plant Protection Society
Publication date: 2000
Pages: 163
Format: Paperback