Manaaki Whenua Press
NEW ZEALAND NATURAL HISTORY AND SCIENCE
Future Challenges in Crop Protection: Repositioning New Zealand's Primary Industries for the Future
Editors: M.R. Butcher, J.T.S. Walker & S.M. Zydenbos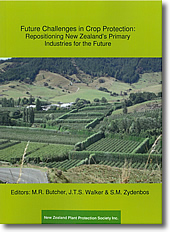 New Zealand is renowned for its innovative primary production practices and high quality produce. Integrated fruit and wine production are the mainstays of horticultural export while intensive pastoral production, in an environment free of international animal diseases of concern, is the basis of that sector.
All sectors are striving for production best practice that has minimal environmental impact, maximises food safety and minimises inputs. Unfortunately New Zealand is not a low cost producer. Land and labour costs are high, therefore 'produce NZ' must be targeted at high value markets.
Increasingly producers are being subjected to demands from buyers that add significant compliance costs for no increased financial return. They also face restrictions on production practices by people half a world away with no understanding (or desire to understand) the unique production environment in New Zealand. Their concerns, concealed in phrases such as 'consumer demands', are purely to maximise their market share.
This publication contains 15 papers presented at the 2007 New Zealand Plant Protection Society Symposium entitled "Future Challenges in Crop Protection: Repositioning New Zealand's Primary Industries for the Future". It was a successful attempt to raise the awareness of researchers and regulators to pressures on producers and to identify synergies for research and regulation to minimise compliance. It is not meant to be the final say on the subject but a thought provoking component to what has been an ongoing process of 'moving goal posts'.
The future of New Zealand's primary production industries lies with how these pressures are addressed today.
Availability
Product information
Author: Editors: M.R. Butcher, J.T.S. Walker & S.M. Zydenbos
ISBN: 978-0-47-313471-6
Publisher: New Zealand Plant Protection Society
Publication date: 2008
Pages: 142
Format: Paperback