Manaaki Whenua Press
NEW ZEALAND NATURAL HISTORY AND SCIENCE
An Illustrated Guide to Weed Seeds of New Zealand
Trevor James, Ian Popay, Paul Champion, Nik Grbavac, Birgit Rhode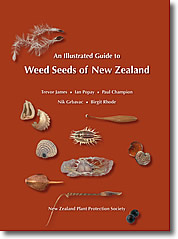 An Illustrated Guide to Weeds Seeds of New Zealand provides a wide audience with access to expert seed identification and will be an invaluable tool for anyone working in agricultural or horticultural production, ecological research or plant pest management, and for anyone with a general interest in plants.
This book is an aid to the identification of the propagules of common naturalised and native plants of NZ, and of weeds of other countries that aren't present in NZ but often intercepted in consignments imported from overseas. It is not strictly about 'seeds' in their bare form, rather the form in which they are most likely to be found or seen; for this reason it includes photographs of 'seeds' with and without appendages such as spiny protrusions, wings or bracts.
The helpful introduction includes an identification aid and glossary. There are 116 pages of colour photographs, with 696 images illustrating 623 different species. A brief description and distribution information are given for each seed.
This is a full colour identification guide from the same publisher that produced An Illustrated Guide to Common Weeds of New Zealand and An Illustrated Guide to Common Grasses, Sedges and Rushes of New Zealand.
Availability
Product information
Author: Trevor James, Ian Popay, Paul Champion, Nik Grbavac, Birgit Rhode
ISBN: 978-0-47-322410-3
Publisher: New Zealand Plant Protection Society
Publication date: 41214
Pages: 144
Format: Spiralbound