Manaaki Whenua Press
NEW ZEALAND NATURAL HISTORY AND SCIENCE
An Illustrated Guide to Common Weeds of New Zealand
Roy, Popay, Champion, James & Rahman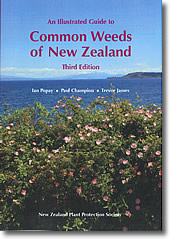 A guide to identification of the common weeds in New Zealand, produced by the New Zealand Plant Protection Society, using colour photographs and simple text to allow anyone to easily identify weeds.
Each plant is listed by both botanical and common names, and indexes to both names enable easy searching. A simple guide to flower colour and size helps identification of plants when in flower.
Favoured habitats are described, as well as distribution in New Zealand and the region in which the weeds originated. Additional comments on usefulness, toxicity and other interesting information are also included for many of the weeds.
A valuable reference for scientists, students, gardeners, and those working in industries affected by weeds. "The clear layout, text, and photos make this an attractive book. It will be a useful addition to the book shelves of people involved in any sort of land management in New Zealand, from the home garden to areas of food or fibre production or of public land." Frances M. Kell, of The Royal Society of New Zealand, writing in the New Zealand Journal of Agricultural Research, 1999, Vol. 42, 205-206.
"The price tag may seem high for a book on weeds but with the amount of information provided in such a pleasant layout I believe it is money well spent."
Valda Paddison, writing in the New Zealand Gardener magazine, February 1999, p 67.
View sample pages of this book at the RNZIH site
Availability
Product information
Author: Roy, Popay, Champion, James & Rahman
ISBN: 978-0-47-305296-6
Publisher: New Zealand Plant Protection Society
Publication date: 1998
Pages: 282
Format: Paperback